| | | |
| --- | --- | --- |
| | Un Jour à Paris | |
un projet WebQuest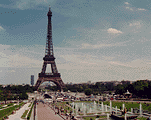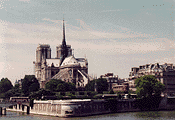 Si vous alliez à Paris, où est-ce que vous iriez et qu'est-ce que vous feriez?

This page was created as part of a course at the University of Delaware, by Dawn (Smith) Davis, former French teacher at North East High School. It is intended for use as part of a unit which includes a small reader "Destination: France" and the conditional tense. The project is designed to have students explore Paris through the internet, harnessing some of its capabilities. The final product is an intinerary for one day in Paris (in the form of an essay) using the conditional tense.

This project is intended for level III or IV French students.

Students will use the internet and hard copy sources to research Paris sights.
Students will use the internet to navigate themselves around Paris.
Students will use the internet to do conditional grammar exercises.
Students will write an essay using the conditional tense.
Students will email me with comments about the project in French.

This project will require either a computer lab, reserved 4-5 class periods, or several computers in your room. This project usually spans about two weeks, because we continue reading "Destination: France" and we do additional activities with the conditional. I have used a rubric form that I use often in my class. Any kind of evaluation, particularly one that students are accustomed to seeing, would suit this project.

This project could be used for lower levels of French, simply by requiring a different end product from the student. Most websites are in French or English, and the conditional tense is only one option as far as grammar is concerned. The two sites given for grammar also have information and exercises in other tenses.

This project adds a little life to a verb tense. It is an excellent combination of Paris tourism and the conditional tense. Students can explore an area of the world without leaving the classroom. The internet brings information that could either not be accessed through print media or would take a very long time to obtain, and probably be out of date. If you have any comments, please Email me.
last updated 6/30/01